Choosing the best solar generator for a refrigerator is important. But, there are so many options out there. There's no way you can test them all in person. Which one should you choose? These reviews will help you determine which of these generators performs best if your refrigerator runs on solar power.
Solar generators are eco-friendly power sources to address energy needs in homes. The solar kits' ability to provide required electricity for large gadgets such as fridges in case of power outages or off-grid living makes them best for continuous energy supply. 
The efficient and reliable solar generator that offers long run time for a refrigerator is desirable in minimizing food waste or damaging the fridge's electronic components. Therefore, exploration of various models of solar generators is necessary for identifying the best choice that guarantees an uninterrupted power supply for fridges.
What is the average power consumption of a refrigerator?
Knowledge of the power rating of the refrigerator is the first step in selecting a solar-powered generator. The technical details provided by the manufacture allow owners to determine the power consumption of the fridges. The total wattage is obtained through the multiplication of the volts and amps provided in the fridge sticker. For instance, 110 volts, 3amps fridge means the refrigerator needs 330 watts (W). 
Energy requirements vary depending on the size, efficiency, and age of the fridge.  The average power usage of a fridge at home can be 100 watts to 500 watts. However, larger refrigerators can have higher ratings. New models tend to be more efficient than older ones due to the innovative technologies.
Can a solar generator power a fridge?
Solar-powered generators can handle the power requirements of refrigerators. However, the major challenge is the duration since fridges have to run continuously. The best solar generators to handle such load must have an output of more than 1000W. Consequently, users should ensure they own energy-efficient refrigerators to minimize power consumption. 
Top 5 solar generators for refrigerator based on consumers review
Key technical specification:
| | |
| --- | --- |
| Battery Capacity: | 2,000 Watt-hours (Wh) |
| Output Voltage: | 120V AC |
| Continuous power output: | 3000 W |
| Surge power output: | 6000 W |
Description:
Titan solar generator expandable battery allows the users to adjust the pack based on their requirements. The solar generator can effectively power a fridge due to the high efficiency of the inverter and large battery capacity. The fast-charging batteries and the use of maximum power point tracking (MPPT) high-quality charge controllers enable Titan owners to enjoy a continuous power supply. The use of 1500W of solar enables homeowners to run their fridges uninterrupted for 24 hours or more depending on the fridge size and the model efficiency.  
The reliability and the high-power output make Titan solar generator the best for powering a refrigerator. Customers are contented with the powerful power output and the expandable capabilities of Titan. Also, the ease of handling allows individuals with limited technical skills to fit all the components together. Titan solar-powered generator is ideal for powering the fridge during an outage or in off-grid living.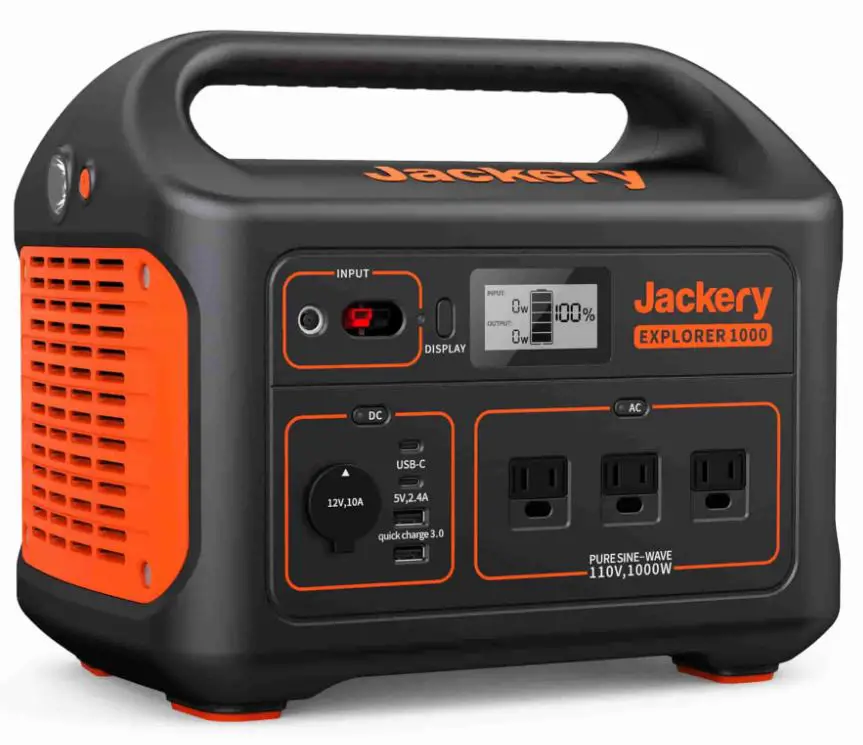 Key technical specification:
| | |
| --- | --- |
| Capacity: | 1002 Wh Lithium battery |
| Continuous Power: | 1000 W |
| Surge Power: | 2000 W |
Description:
Jackery solar generator allows users to enjoy a clean and noiseless power supply. The solar-powered generator can supply power for a 60W mini fridge for 17 hours. Additionally, large refrigerators can be powered comfortably using the model. The availability of solar panels in the power station system enables buyers to charge their solar generators faster and enjoy a continuous electricity supply. Jackery is considered the quietest solar generator compared to other models. 
 Positive reviews by the customers validate the usefulness of Jackery in powering refrigerators. One of the client's states that "I let it run overnight for a total of 10 hours. It still had 33% left." The comment shows that a fully charged solar generator can provide reliable electricity to keep all sizes of fridges running. 
3. Goal Zero Yeti 3000 Lithium
Key technical specification:
| | |
| --- | --- |
| Pack capacity: | 3075 Wh |
| Continuous power: | 1500 W |
| Surge Power: | 3000 W |
Description:
The use of Goal Zero Yeti 3000 Lithium guarantees long run-time for the fridge. The 3075Wh battery and continuous power output of 1500 watts are enough to power large fridges. Additionally, cutting-edge technology that allows Wi-Fi connectivity enables users to monitor power usage using a mobile app. The solar generator can power a 35W watts mini-fridge for 87 hours and a 55 watts refrigerator for up to 55 hours.
The advanced technology used in making Goal Zero Yeti 3000 Lithium makes it among the best in the market. Customers are happy since the model can effectively power a fridge for up to two days. The versatility of the model makes it ideal in remote places and areas affected by blackouts. 
Key technical specification:
| | |
| --- | --- |
| Battery capacity: | 1,000 Wh |
| Continuous power output: | 1,500 W |
| Surge power: | 3000 W |
Description:
The lightweight and compact solar generators are ideal for powering home appliances. The use of dual advanced MPPT charge controller promotes fast charging of the battery pack. Approximately, Inergy Flex 1500 can be fully charged in three and half hours. The provision to expand the battery capacity enables owners to increase the energy stored based on the home demands. 
Inergy Flex 1500 is ideal for off-grid living and as an alternative during power outages. The solar-powered generator stores enough energy to power refrigerators continuously for up to 12 hours depending on the size. Customers testify that the model is dependable as it works well with fridges.
5. Bluetti AC200max Expandable Power Station
Key technical specification:
| | |
| --- | --- |
| Battery Capacity: | 2048 Wh |
| Continuous power output: | 2200 W |
| Surge power output: | 4800 W |
Description:
Bluetti AC200max is an advanced solar generator that can be monitored and controlled by a smart App control. The expandable storage allows homeowners to improve their capacity based on energy demands at home. The solar-powered generator can provide continuous power for 15-28 hours to 150W refrigerators. The massive battery storage means Bluetti AC200max is among the most reliable and efficient solar generators.
Customers feedback on powering fridges shows that Bluetti AC200max   is dependable. The ability to provide power for up to 24 hours makes shows that the model is an effective source of power. Customer reviews show that small portable fridges can be powered for 2.5-3 days without any glitch. 
Final Verdict
Solar-powered generators that can power refrigerators are available. The purchase decision is based on the total energy needs in a given household. The best solar generator for refrigerators should guarantee fast charging using solar panels and high battery capacity.
Advanced technologies help reduce solar generator shortcomings during cloudy days, erratic weather, or in case of power surges. Therefore, the size of the fridge and power efficiency is a priority in the selection of the ideal solar power generators model.
Recommended Reading: