A home solar installation can ensure energy independence, a "zero utility bill", no power interruptions, and more.
Affordability and reliability are the highlights of a solar panel system. But it depends on one single and vital factor – the availability of ample sunlight.
Of course, sunlight is not available during night hours and this is accounted for in the overall scheme of things. However, during the daytime, if it's cloudy or raining, it can bring down the energy production substantially.
What if there is a solution to this dilemma? The older and conventional solar panels are not well-equipped to deal with cloudy conditions. They need direct sunlight to work their magic. However, there is a new generation of solar panels that can continue to produce electricity even in indirect sunlight when the clouds are blocking the sun.
Their efficiency level may not be as good as that on a cloudless sunlit day. But these solar panels will continue to meet your energy needs and keep things going smoothly.
In case you live in a location where cloudy days are more frequent, it pays to invest in such solar panels. This article is a compilation of the best solar panels for cloudy days. Here you will find reviews of five of the best available in the market. The article also answers some of the questions you may be asking yourself before buying solar panels.
Before we get started on the reviews, let us understand how these solar panels work despite the unavailability of direct sunlight.
Add a header to begin generating the table of contents
How Solar Panels Work on Cloudy Days?
There is a general misconception that a solar panel can't produce electricity when direct sunlight is not available. The older generation of solar panels couldn't but technological advances have helped us overcome this major hurdle.
In many regions of the world, direct sunlight is a rarity and a luxury for most of the year. Without these new generation solar panels, installing solar panels would be worthless. That said, let's see how solar panels can be made to work in cloudy conditions.
Cloudy doesn't imply any sunlight
Even on cloudy days, the sun is present in the sky and the clouds are just blocking the sunlight from reaching the earth. However, clouds do not block the sunlight completely. Some of it will penetrate the cloud layer and reach the earth. 
The solar panels will continue to generate electricity using the sunlight it receives even on cloudy days. The efficiency may be lower as compared to a bright and sunny day.
Choosing higher efficiency panels
Solar panels come in three basic categories – monocrystalline silicon, polycrystalline silicon, and thin-film panels. Of the three, monocrystalline silicon cells have the highest efficiency. This means for the same amount of incident sunlight, the electricity generated will be more. 
In places where there is sufficient sunlight, polycrystalline and thin-film cells are usually preferred for their lower price tags. However, if the need of the hour is to raise the efficiency of solar panels, the better choice would be monocrystalline silicon cells despite them being expensive.
Include a battery in the solar system
A solar battery can store the excess energy generated when the sun is shining bright. This stored energy can come to your rescue on a cloudy day when the system is generating less than required electricity. 
Using adjustable or tilting mounts
Typically solar panels are mounted after taking into account the direction and angle of incident sunlight. But as seasons change, the position of the sun also changes. This means that there will be a change in the direction and angle of incidence. 
When the sun is shining bright, this is not a big issue. The solar panels will continue to generate enough electricity to meet your needs. However, in cloudy climates, changing the position and inclination of solar panels can help in increasing efficiency. 
Using adjustable mounts for solar panels can help overcome this problem. You can either go for the manual one or an automatic solar tracker. A dual-axis solar tracker can raise the efficiency of solar panels by as much as 45-50%.
Add a luminescent solar concentrator (LSC)
Luminescent solar concentrators are devices consisting of a colored thin panel of glass or plastic coated with luminophores such as quantum dots, organic dyes, or rare-earth complexes. It also has a small PV cell located at the edges to convert solar energy into electricity.
LSCs absorb solar radiation over a large area and emit radiation of longer wavelengths. A bulk of the long-wavelength light is collected using total internal reflection and directed to the edges where the PV cells are located.  
LSCs can reduce the size of the solar cell and thereby the quantity of semiconductor material needed. This can bring down the cost of the installation. And, unlike solar trackers, LSCs don't have moving parts nor do they need a cooling system. They are less expensive.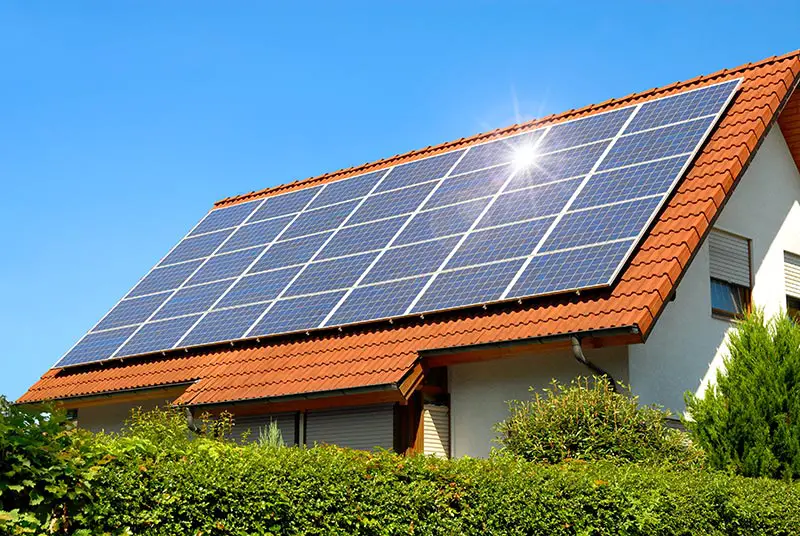 Top 5 Solar Panels for Cloudy Days Reviews
Among renewable energy sources, solar power scores high on many fronts – versatility, cost, lifespan, maintenance, as well as ease-of-installation, and use. All these make it the most popular one despite a few disadvantages like availability of sunlight and lower efficiency rate.
Technology has been evolving to overcome these impediments to make solar installations more attractive to homeowners. One of the major hurdles for solar power is the unavailability of direct sunlight or cloudy conditions. The newer technologies make sure that this is no longer a dealbreaker for those who want to switch to solar power.
Here is a list of solar panels for you to consider to meet your energy needs on cloudy days.
RICH SOLAR 200 Watt 12 Volt Monocrystalline Solar Panel
Brand: RICH SOLAR
Solar panel: Monocrystalline Silicon
Protective material: Tempered glass
Item Dimensions (LxWxH): 58.3 x 26.2 x 1.4 inches
Item Weight: 26.5 Pounds
Amperage Capacity: 9.8 Amps
Cable: Quick connect

Warranty: 25-year limited power output; 5-year material and workmanship
This solar panel comes with monocrystalline silicon for higher efficiency levels. It also has quick-connect cables for simpler and faster connectivity. These solar panels are capable of generating 9.8 amps of current and a 12-volt battery charge.
The monocrystalline silicon panel is well-protected by tempered glass with an anti-reflective coating to ensure durability and a higher rate of transmission. It is mounted on a sturdy and non-corrosive aluminum frame, anodized for longer life. 
The performance of this solar panel is high on two counts – its high endurance level in challenging weather conditions and its capacity to generate electricity in low light conditions, including cloudy days.
Designed for easy and simple installation, this solar panel comes with 14 holes that are pre-drilled and compatible with a variety of mounts. Each solar panel comes attached with a junction box at the back with solar connectors that are a perfect fit for the cables provided for easy installation.
Highlights of RICH SOLAR:
Monocrystalline silicon panel for high efficiency
Tempered glass protection with anti-reflective coating for higher performance and durability
Anodized aluminum frame that is sturdy and non-corrosive
Has a capacity of producing 9.8 amps of current and a 12-volt battery charge
Comes equipped with 14 no.s of pre-drilled holes that are compatible with all types of mounts
Has regular solar connectors in the junction box on the reverse of the panel for quicker connection
BougeRV 180 Watts Monocrystalline Solar Panel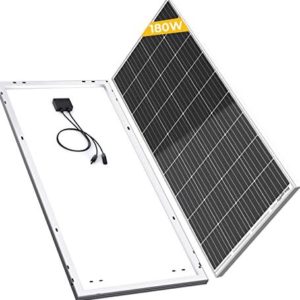 Brand: BougeRV
Solar panel: Monocrystalline Silicon
Protective material: High-transparent glass
Item Dimensions (LxWxH): 58.27 x 26.38 x 1.38 inches
Item Weight: 24 pounds
Amperage Capacity: 8.91 Amps
Cable: 3ft cable & solar connectors
Warranty: 25 years
The BougeRV panel is equipped with monocrystalline silicon for high-efficiency power output. The panels are protected by a high-transparent glass with an anti-reflective coating for impact and water resistance. The aluminum frames are durable and corrosion-resistant.
The BougeRV 180 Watts panel is designed to withstand high wind speeds (2400 Pa) and heavy snow loads (5400 Pa), making it ideal for cold and rough outdoor environments. It is suitable for off-grid and on-grid installations at homes as well as RVs/trucks/vans/boats. 
The presence of pre-drilled holes makes the solar panel easy to install. The BougeRV panel is provided with a pre-connected 3ft cable at the water-proof junction box located on the reverse. 
The most important feature of the BougeRV solar panel is the pre-installed bypass diode that can ensure sufficient power generation even in low-light conditions and cloudy days.
Highlights of BougeRV solar panel:
Comes with a high-efficiency monocrystalline solar panel 
Protected by multi-layered high-transparency glass 
Noncorrosive aluminum frame is sturdy to withstand severe weather conditions
Pre-drilled holes make installation simple and easy
Equipped with bypass diodes to maintain efficiency in cloudy conditions
Ideal for off-grid and on-grid use
Renogy 100 Watt 12 Volt Eclipse Monocrystalline Solar Panel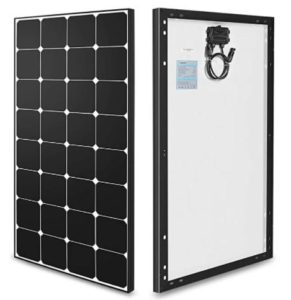 Brand: Renogy
Solar panel: Monocrystalline Silicon
Protective material: Tempered glass
Item Dimensions (LxWxH): 40.9 x 21.0 x 1.4 inches
Item Weight: 15 pounds
Amperage Capacity: 5.70 Amp
Cable: 2ft cable
Warranty: 25 years power output warranty
Eclipse solar panel comes with high-efficiency monocrystalline silicon cells to offer the best energy output. It has bypass diodes to maintain power generation even in shady and cloudy conditions. It is provided with multi-layered laminated sheets for improved performance.
This is the best 100 Watt solar panel to offer high tolerance to high winds and heavy snowing conditions. It is encased in an aluminum framework that is corrosion-resistant for high durability and outdoor use. 
The solar panel is protected by low iron tempered glass with high transparency and an anti-reflective coating. The junction box comes with an IP65 rating, ensuring protection from wet weather conditions, particles from environmental debris, and even water jets with low pressure.
Weighing at 15 pounds, this solar panel has a clean look because of the absence of grid lines on its surface. The TPT rear protection ensures that it offers seamless performance for years. Compatible for on-grid and off-grid usage, its pre-drilled holes ensure faster mounting.
Highlights of Renogy woo-watt solar panel:
High-efficiency monocrystalline solar cells for better performance
Bypass diode prevents power drop due to insufficient light on cloudy days
Low iron tempered glass with anti-reflective coating and high transparency 
Top-notch protective covering with multiple-layered laminations
Non-corrosive aluminum frame for exterior use and long life
iTODOS 2 Pack Solar Panel Compatible With Arlo Pro 2, 11.8Ft Outdoor Power Charging Cable and Adjustable Mount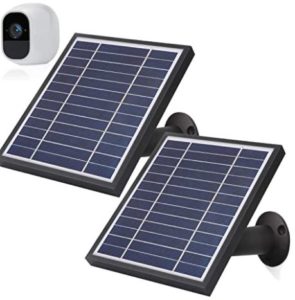 Brand: iTODOS
Solar panel: Monocrystalline Silicon
Protective material: High-transparent glass
Package Dimensions (LxWxH): 10.31 x 6.54 x 3.31 inches
Item Weight: 2.91 pounds
Power output: Built-in 2600mAh rechargeable battery
Cable: 11.8ft Power Cord
Connector type: USB
A perfect companion for your surveillance camera, the iTODOS panel is designed for outdoor use. With a long power cable and water-proof design, this panel is compatible with Arlo Pro2 but not with Arlo Pro3 and Arlo Ultralights.
High-efficiency power output is ensured with monocrystalline silicon cells. It is encased in a sturdy glass panel and aluminum alloy frame, making it safe from dust and temperature variations. 
The USB connecting head can be sealed after connecting the camera. The 360° adjustable mount makes flexible solar panels capture maximum sunlight despite seasonal changes. The design of the panel makes it suitable for the wall as well as the roof mount. 
iTODOS solar panel can ensure that your surveillance camera won't need battery charging or power adapter. 
Highlights of iTODOS solar panel
Monocrystalline silicon cells for high efficiency
Sturdy and dust-proof protection ensured with glass panel and aluminum alloy frame
Designed to withstand temperature variations and harsh weather conditions
Pre-drilled holes make installation easy
Adjustable mount is useful for modifying its tilt for seasonal changes
Long cable provided is useful to connect the camera
ACOPOWER Portable Solar Panel Kit 100W, Foldable 2X 50W Mono Suitcase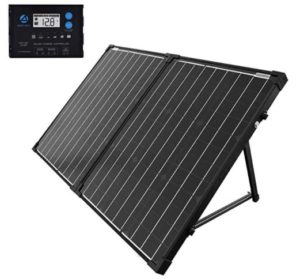 Brand: ACOPOWER
Solar panel: Monocrystalline Silicon
Protective material: Industrial-strength glass
Item Dimensions (LxWxH): 19.9 x 27.2 x 2.8 inches
Item Weight: 25.5 pounds
Amperage Capacity: 20 Amps
Connection: MC-4 Connector, Anderson Connector, and Alligator Clips
Cable: 14.75ft
This solar panel offers a seamless off-grid experience with enough power to charge two devices simultaneously. Light-weight, foldable, and compatible with most charging stations available in the market, this is a perfect companion for outdoor activity and travel.
This portable solar panel comes with corrosion-resistant anodized aluminum kickstands to place it on any flat surface. Its TPE rubber handle will come in handy to carry it around. 
High efficiency is ensured with monocrystalline solar panels. Industrial-strength glass, ETFE-laminated case, and IP65 water-proofing ensure that the panel remains safe and protected from strong winds, heavy snow, dust, and water splashing. 
ACOPOWER solar panel has a 5-stage built-in solar charge controller to prevent overcharging and reduce fire risk. It is provided with alligator clamps to connect to a 12-volt battery. This 100W solar panel is expandable up to 200 Watts. 
Highlights of ACOPOWER Portable panel:
Sturdy and waterproof, suitable for rough outdoor conditions
Powerful to charge two devices simultaneously
5-stage inbuilt charge controller to prevent overcharging and fire risk
Kickstand and alligator clamps for easy setup
Foldable with a convenient handle for easy transport
Expandable up to 200W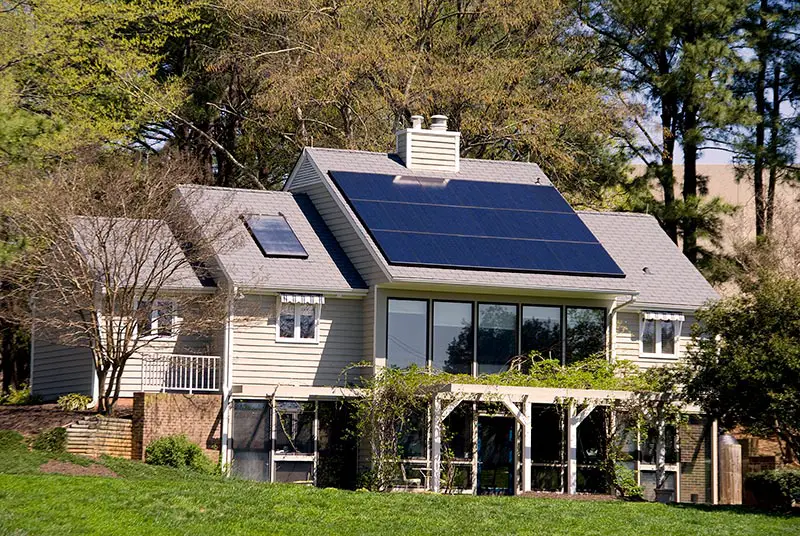 Why you should purchase solar panels meant for cloudy conditions?
Having cloudy weather for most of the year should not be a deterrent for going solar. These solar panels ensure that you continue to enjoy solar power even when the sun is not shining bright. Their output and efficiency may not be the same as on a sunlit day, but with these solar panels, a cloudy day cannot make your investment worthless.
If you are still not convinced to go ahead with buying solar panels specifically designed for cloudy conditions, here are a few reasons to help you make up your mind.
1. Solar power is clean and renewable
You may be hearing about the effects of global warming and climate change all the time. This may have made you wonder how you can help. Going solar is your contribution to a good cause. Instead of using the grid energy generated from fossil fuels, you can ensure that you are not harming the environment with solar energy.
2. It is reliable
You may face power outages and disruptions with grid power. However, with these panels, you are assured of energy even in cloudy conditions. If you install solar panels meant for cloudy days, you will never have to face trouble charging any of your devices.
3. It is affordable
Solar panels may be high on initial investment but in a very short time, they pay for themselves. For the rest of its lifespan, you can continue to use the electricity it generates free of charge. If you choose these solar panels, they will even work in cloudy conditions.
4. It entails minimal maintenance cost
With no moving parts, solar panels do not demand much in the way of maintenance. They rarely break down or malfunction. You just need to keep the surface of the panel clean.
5. It is a good investment
Reliable, affordable, and low maintenance – solar panels are too good to be true. Together with their long lifespan, solar panels are definitely good value for money spent.
Bottom line
If you are planning to go solar and are worried about how they will work in low-light conditions, this article may have answered all your questions and cleared your doubts. You don't need to abandon your solar plans because you are living in a place with more cloudy days.
These panels can generate electricity even in cloudy conditions, maybe not as much as they can on sunny days. However, they can ensure a seamless experience by providing a continuous power supply for your needs.
Each one of the products reviewed here is suitable for specific occasions and requirements. While RICH SOLAR and Renogy are ideal for home installation, BougeRV is especially suited for powering your RV. iTODOS is meant to power surveillance cameras and ACOPOWER is for your camping needs.
Recommended Reading: