It's indeed distressing that power outages are becoming the norm nowadays. With the effects of climate change worsening, this is bound to get worse in the coming years. 
Power outages are not just an annoyance, they can cause serious damage to your electrical system and appliances. As a homeowner, it is natural for you to feel worried about the frequency of such outages. In this scenario, what can you do about it?
Having an alternative energy source is the obvious solution to this dilemma. A whole house generator would solve the problem. Whenever there is a power outage, this generator can take over and produce enough electricity to meet the needs of your household. Now, the question is how will it generate electricity.
With a generator, you have diesel-powered and solar-powered choices. If you choose a diesel-powered generator, it will further add to the air and noise pollution and your carbon footprint will go up. With this, you are contributing to worsening the situation rather than making it better.
This makes a solar-powered generator the best choice to meet the power needs of your house in the event of outages. With a whole house solar generator, you are harnessing a free, abundant, renewable, and sustainable energy source. You can rest easy that you are not harming the planet even while making your life more comfortable and enjoyable. 
This article will offer you a comprehensive tour of the solar generator market and explains why you should get one. Here you will find listed the best whole house solar generators available in the market. 
Add a header to begin generating the table of contents
What is a whole house solar generator?
This is a solar generator that can supply power to the entire household. A generator is an all-in-one device that brings together various technologies and electrical devices in a single portable unit.
The components of a whole house solar generator are
Inverter
Charge controller
Battery
Solar panels (optional)
When all these components are put together in a single unit, it forms a solar generator. Solar generators may or may not come with solar panels. However, some manufacturers offer solar generator kit that includes compatible solar panels and generators. If they are not included, you will have to buy suitable panels separately.
Solar generators are also known as solar power stations and solar power boxes. 
Why should you choose a whole house solar generator?
If you are not expert enough to understand, buy, and assemble various components of a solar system, solar generators are excellent choices. It will make it easier for you to enjoy the benefits of a solar system without the hassles of figuring out the right components for your solar panel system.
With a solar generator, you can also avoid the trouble of connecting the components. If your knowledge of electrical wiring is limited, you will find this an attractive choice.
Here are a few more reasons why you should choose a solar generator.
Solar generators are silent and don't pollute. This is in comparison with your only other option – a diesel-powered generator. They emit carbon dioxide, a greenhouse gas besides toxic fumes and high noise levels. 
Solar energy is clean, green, renewable, and sustainable. Whether you are using grid energy or using a diesel-powered generator, the energy comes from burning fossil fuels, which is not clean, green, renewable, or sustainable.
Solar generators offer an uninterrupted power supply. This means whenever there is a power outage, the generator turns on on its own and starts generating electricity to meet the demand. The generator will also shut off when the power comes back. 
Solar generators will have sufficient power to meet all your energy needs. As this device is designed for this purpose, you won't feel the annoyance of the power outage anymore.
Solar generators demand less maintenance. As this device doesn't have moving parts, wear and tear is minimal. You just need to ensure that the generator is topped up.
Solar generators are customizable. They allow you the flexibility to add more devices to make them suitable for your needs.
Solar generators come with compatible components. You don't have to invest your time in understanding them and shopping for the right solar energy devices to make them work.
Solar generators are easy to install. Most of them come as plug-and-play devices. 
Solar generators are portable. Unlike the typical solar energy systems installed at homes, these are just plugged into your electrical system and not fixed. Moving them is easier.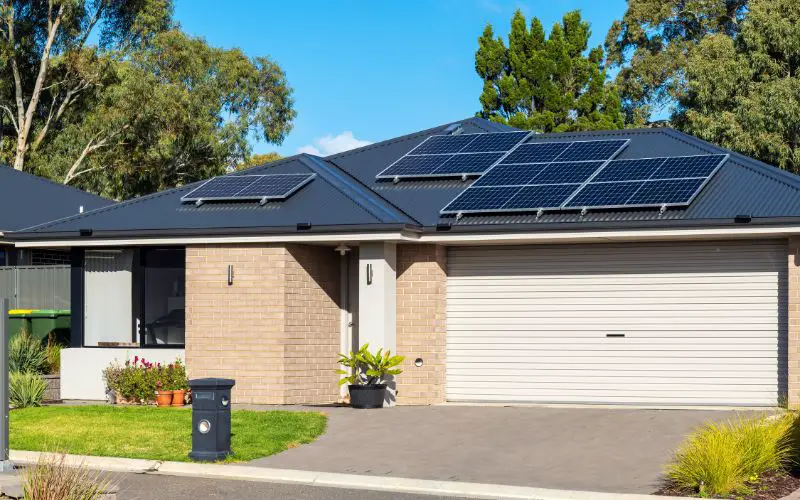 Can a solar generator produce power for a whole house?
The simple answer is yes if you choose a suitable one.
Here are a few pointers to pick the best solar generator for home use.
Sufficient battery capacity: The capacity of the battery (given in watt-hours or amp-hours) should cover your energy requirements. A solar generator with insufficient capacity won't be able to meet your energy needs.
Sufficient inverter capacity: The power output of the inverter (given in watts) should be able to meet your energy demand. A solar generator with an inadequate inverter may not function at all. 
The capacity of the battery and inverter are the two most important aspects to consider when picking a solar generator for house. To ensure that they have sufficient capacity to meet your energy needs, you first need to have a good understanding of your energy needs. 
How to determine the capacity of a solar generator for your home?
Your energy requirement needs to be measured on two levels.
Your energy usage per day
Your peak-hour usage
First, to know your per-day energy requirement, you can get it from your past energy bills. For more accuracy, you can take the average monthly energy consumption for the past 6 months or one year. Once you have your monthly consumption, divide it by 30 to get per-day consumption. In the US, the average per day consumption is in the range 15-30kWh.
Second, to know your peak hour usage, list down the power consumption of all your energy-guzzling devices. Add it up to get the power output needed for your home. In the US, the maximum load in an average household is 3-5 kW.
With this information, you can calculate the capacities of your battery and inverter.
Battery capacity depends on how long the battery should supply power when the sun is not shining. In sunny locations, the solar battery will get recharged during day time every day. So you need to consider only the night hours for this calculation. If you live in an area where rains and cloudy days are frequent, you have to account for this as well. 
The capacity of the inverter should ideally be 120% of the power output needed to run the house. If your maximum load is 5kW, the inverter capacity needs to be 6kW.
You also need to know how many solar panels you need to support this solar generator. You can calculate this by dividing the battery capacity by the product of the wattage of individual solar panels and peak sun hours in your location.
Solar system or a whole house solar generator – Which one is better?
There is no right answer to this question. It depends entirely on your situation and requirement. 
If you have limited knowledge about your power consumption, capacities of electrical devices, and electrical wiring, a solar generator is a good choice. It is a plug-and-play device that requires no in-depth knowledge. It's easy to monitor with a single app. Moreover, it also comes with the additional attraction of portability. 
However, the traditional solar system comes with its own advantages. It may require some electrical knowledge on your part for shopping, setting up, and maintenance. But with this, you can customize the system to your requirement. Most often, this comes cheaper if you know the ins and outs of the components and where to get it cheap.
How to shop for the best whole house solar generator?
Once you have the minimum capacities of the inverter and battery for the solar generator and the number of solar panels needed to ensure sufficient solar energy, you are ready to go shopping. One word of caution before you buy a whole house solar generator.
When you are buying an electrical device, it would be advisable to consider the Levelized Cost of Storage (LCOS) rather than the actual cost. LCOS is the cost of the storage device after accounting for the cost of electricity discharged from the storage device throughout its lifetime. This means a low price tag is not always desirable. If the device is incurring a loss of energy or doesn't last long, its LCOS will be higher than a higher-priced device.
In simple terms, this means you should consider the quality of the product and not just its price.
Best whole house solar generators
Goal Zero Yeti 500X Portable Power Station
This is not exactly suitable for supplying power to the entire house but is included here for budget-conscious buyers. This has enough power to meet the energy demands of many small appliances at home as well as recharge the phone, laptop, and camera. This can be your perfect companion on your camping trips. You can even consider buying two of them and connecting them up. Solar panels are not included.
Wattage: 500 watts
Voltage: 12 volts
Weight: 12.9 lbs
Battery type: Lithium-ion battery included
Ports: AC, 12V, USB-C, and USB-C PD
Warranty: 2 years
BLUETTI Expandable Power Station AC300 and B300 External Battery Module
Whether you want to harness solar energy for use at home or outdoors, this is a good choice for medium energy needs. The AC300 Power Station comes with a 3000W inverter and B300 expansion battery for providing continuous power for your electrical devices. The power station is expandable and can support up to 4 B300 batteries. Comparatively lightweight, you can carry this with you on your outdoor expeditions.
Wattage: 3000 watts
Voltage: 120V
Weight: 47.62 lbs
Battery type: LiFePO4 battery
Ports: AC, USB-A, 100W USB-C, wireless charger, carport
Warranty: 4 years
Cutting Edge Power CEP Rebel Whole Home Solar Backup Generator
This solar generator is a plug-and-play device suitable for households with moderate energy consumption. Suitable for both 120V and 240V outlets, this solar backup generator offers 4000W power output. The manufacturer also affords the option to choose your own batteries or factory-install long-lasting lithium battery for a fast recharge. The units are assembled in the US.
Wattage: 4000 watts
Voltage: 240V split phase
Weight: 99 lbs
Battery type: Lithium battery
Ports: 12V, USB-C PD, USB-A QC 3.0
Warranty: 5 years
Renogy LYCAN 5000 Power Box
This is a perfect all-in-one solar power generator to power your home during power outages or off-the-grid expeditions. With a 3500W AC output and 4.8kWh capacity, it is well-equipped to meet the energy needs of an average US household. The DC Home app will help in monitoring the functioning of this solar generator remotely.
Wattage: 3500 watts (up to 7000 watts peak power)
Voltage: 120 volts
Weight: 264.6 lbs
Battery type: LiFePO4 battery
Warranty: 5 years prorated warranty 
Final thoughts on whole house solar generator
A solar generator can set you back by a few hundred dollars to almost $10,000. It depends on the capacity of the inverter and battery, the lifespan of the device, and the warranty offered among other aspects. If your budget is limited, you can choose one with a lower capacity to meet your essential energy needs. However, the high-end models will give you better value for money.
When the hurricane season is approaching, you need not feel anxious about the long power outages anymore. A whole house solar generator kit that includes solar panels and generators can keep you connected and comfortable throughout these harrowing times. 
If you are a greenhorn in electrical connections and not a handy kind of person, whole house solar generators offer the perfect solution to your power problems.