The immense popularity of 100-watt solar panels is understandable. Compact, portable, easy to set up, and more than anything else, affordable – no wonder 100-watt solar panel kits are in high demand.
Before we go further, you may want to know that a 100-watt solar panel cannot power most of your home appliances. In other words, this is not a choice for home solar installation. These are much smaller in size and capacity.
A 100-watt solar panel finds its use in supplying power to a range of small electronic and electrical devices around your home, whose power requirement is within 100 watts. Such as laptops, phones, WiFi routers, tablets, LED TVs, LED lights, and ceiling fans. You can find out the wattage of an electrical device by checking the label. So long as the wattage is within 100 watts, you can use a 100-watt solar panel to charge it. 
Now that this point is cleared, let us move on to the practical aspects of using a 100-watt solar panel. As you know, solar panels produce electricity only when the sun is shining. In other words, it cannot generate energy at night. If you are looking for a power source that is available 24×7, you should consider teaming the solar panel with a storage device. A solar battery can store the excess energy produced during the daytime for use at night.
Even if there are limitations where a 100-watt solar system can be used, it is still a good buy because it can power most of your essential devices when you are unable to access grid power. When you are traveling, camping, or in an RV or a boat, this small wonder can provide enough juice to help you stay connected with the outside world.
Read on to learn more about 100-watt solar panel kits and how to make the best use of them. In this article, you will find a list of the best 5 100-watt solar panel kits available on the market to help you harness the free renewable energy available to you.
Add a header to begin generating the table of contents
What comes in a 100-watt solar panel kit
As it says in the product name itself, these are solar panel kits and not merely solar panels. Let's see what all are included in a solar panel kit.
Here are the common components you can expect in solar panel kits.
1. Solar panel: 
That is a no-brainer! How can a solar power system work without solar panels? The capacity of the solar panel is measured in terms of wattage.
2. Charge controller: 
Merely generating electricity is not enough to charge your devices. A charge controller is a device that regulates and transmits the power produced by the panel. It prevents common charging issues like overcharging, overheating, short circuits, and reverse polarity. 
3. Mounting hardware: 
Unlike bigger solar installations, solar kits are smaller units with an emphasis on compactness and portability. The solar panels in these kits already come mounted in frames, often with kickstands, or will have pre-drilled holes for easy mounting.
4. Cables and tools: 
These may not seem very important but are an inevitable part of a solar panel kit to help make the installation process simple and easy.
5. Inverter: 
A solar energy system cannot function effectively without an inverter. It is the inverter that converts the DC power produced by the solar panel into usable AC power. However, you may not find this component in many solar panel kits. You may have to buy it separately.
6. Battery: 
This is an optional but desirable addition to a solar power system. This can be useful in storing the energy produced for later use. A battery is extremely useful for drawing power from the panel at night. Ensure that the voltage of the battery matches that of the solar panel.
Tips for selecting the best solar panel kit
Here are some of the factors you should consider when choosing a solar panel kit.
Power demand: 
What are your electricity expectations from the solar power system? As the solar panel kits are usually chosen based on their capacity, which is measured as their wattage, knowing your power requirements can make the decision easier. 
You need to remember that the higher the wattage, the more power you get from the solar systems. But the price of the kit will go up and the solar system gets bulkier. 
If you are not sure about your requirements, you can start with a basic kit and one solar panel and add more to the setup. 
Component quality: 
Invest time in understanding the components included in the kit. Go for a solar kit offering monocrystalline panels. Though costly, they are more efficient. This means that even with a smaller panel and poor light, you will get more power. 
Pick a kit with a charge controller with higher wattage so that you can expand the capacity of the kit later on. Another point to verify is whether the charge controller offers protection against common charging issues. Choose one with an LED display for ease of use.
Brand value and warranty: 
This is a major consideration to ensure the lifespan of the solar systems. Read the fine print to know the terms of the warranty. Check reviews and feedback of genuine buyers to confirm that the kit will deliver what it promises.
5 best 100-watt solar panel kits
Renogy 100 Watt 12 Volt Monocrystalline Solar Panel Starter Kit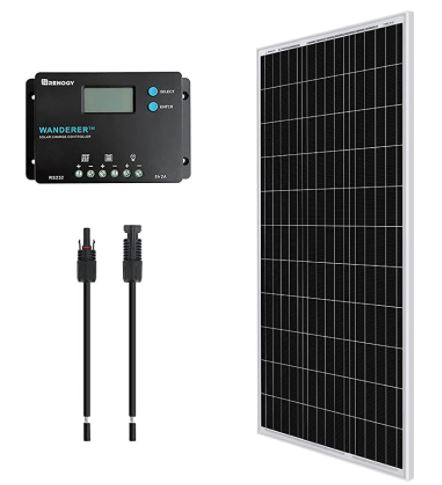 This 100-watt 12Vt solar starter kit is a basic offering from Renogy, one of the most popular budget brands in the solar industry. If you are making your foray into solar energy, this is the perfect solar kit for you. This is ideal for use in off-grid scenarios like RVs, cabins, and boats.
The solar panel included in the kit is made from monocrystalline silicon, which is the most efficient among solar panels. Corrosion-resistant aluminum frame and IP65 rated junction box make it ideal for outdoor use. Pre-drilled holes on the panels are helpful for fast and easy mounting.
Renogy Wanderer, the charge controller included in the kit, is well-equipped against common electrical issues. The solar kit offers two choices to buyers regarding the capacity of the charge controller – Renogy Wanderer Li 30A PWM and Li 10A PWM. Choosing one with higher amperage will allow you to expand your system up to a maximum of 400W. That is 4 100-watt panels.
Package includes:
100-watt monocrystalline panel
Renogy Wanderer Li 30A PWM Charge Controller
Renogy 20ft 10AWG Solar Adaptor Kit – 1 pair
Mounting Z Brackets
Renogy 8ft 10 AWG Tray Cables – 1 pair
Highlights:
Up to 400Wh daily output
21% conversion efficiency
Protection against common electrical issues
Pre-drilled holes for easy installation
5-year warranty
WindyNation 100 Watt Solar Panel kit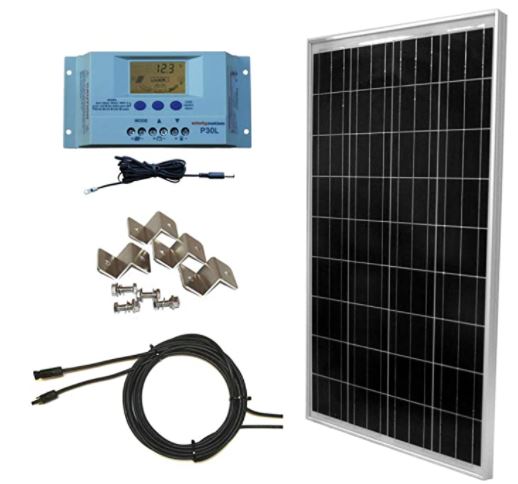 Another solar panel kit from a popular brand, WindyNation. With this solar starter kit, you can expect up to 350 watts on a bright sunny day. Ideal for off-grid use in RVs, boats, and cabins, this can also double up as a backup power source. 
Included in this solar kit is a premium-grade PWM solar charge controller with an LCD digital display. The displayed information includes system amperage, voltage, temperature, amp-hours, DC load draw, and more. 
The charge controller allows the user to adjust the system settings such as the voltage of the solar disconnect and voltage of the load disconnect. 
The capacity of the charge controller is high enough to accommodate 4 100-watt solar panels. 
Package includes:
100-watt polycrystalline solar panel
30Amp WindyNation P30L LCD Display Solar Charge Controller
40 ft of UL Listed 12 AWG Solar Cable
Connectors for wiring
4 solar panel mounting brackets and fastener sets
User manual
Highlights:
User-adjustable charge controller
LCD panel for ease of use
Battery temperature sensor 
Expandable up to 400 watts
Ideal for off-grid and power backup
Renogy 100 Watt 12 Volt Off Grid Solar Premium Kit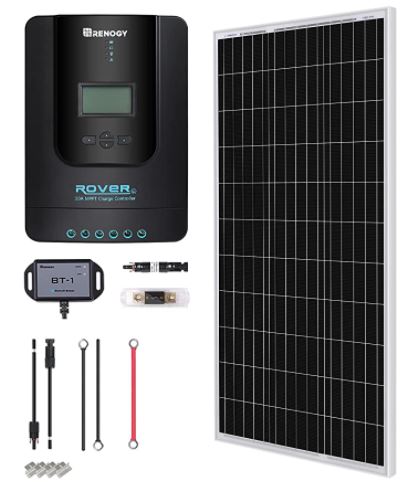 If you are looking for a high-end solar panel kit, look no further. Renolgy has the perfect kit for you. 
The monocrystalline panel ensures the highest conversion efficiency. The Rover 20A MPPT Charge Controller is the highlight of this solar panel kit. It offers special features like multiphase synchronous rectification and Maximum Power Point Tracking technologies to boost charging efficiency. 
The Bluetooth module is useful for pairing with the DC Home app to remotely monitor and control the solar system's setting from your phone. The 4-Stage battery charging process ensures fast, efficient, and safe battery charging.
This Renogy solar kit also includes various cables, tools, and other components for ease of setting up the solar system. The pre-drilled holes on the back of the panel make mounting simple. 
Package includes:
100-watt monocrystalline solar panel
Rover 20A MPPT Charge Controller
20ft 10 AWG AK, 2ft 10AWG Fuse Cable, 8ft 10 AWG Tray Cable
Mounting Z Brackets set
BT-1 Bluetooth Module
10A In-line Fuse and 20A ANL Fuse
Highlights:
Bypass diodes to minimize power drop
Low iron tempered glass with extra thick anti-reflection and high transparency
Waterproof In-line fuse and ANL fuse components
RS-232 port for extra features
EL tested solar modules to prevent hot-spot heating
Corrosion-resistant aluminum frame, TPT back sheet, IP65 rated junction box
Topsolar Solar Panel Kit 100 Watt 12 Volt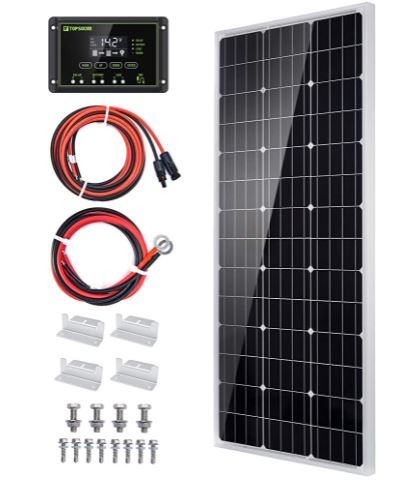 This excellent solar panel kit comes from the stables of Topsolar. Designed for use in a wide range of situations including RVs, greenhouses, and gate openers, the Topsolar kit is built for efficiency with monocrystalline panels.
The 20A PWM intelligent charge controller offers protection from overcharging, overvoltage, discharge, short circuit, and reversed polarity. The capacity of the charge controller is good enough to expand the solar system with additional panels up to 260 watts.
This solar panel kit is built for outdoor use and can withstand the vagaries of nature like high winds and snow loads. A strong aluminum frame and tempered glass with a waterproof IP-65 rated junction box offer a long lifetime.
The solar kit also includes everything needed for quick and easy installation.
Package includes:
100-watt monocrystalline solar panel
20A 12/24V solar charge controller
16ft 12 AWG solar cable (red & black) – 1 pair 
 Z mounting brackets – 4 pieces
Highlights:
High-efficiency panels
20A PWM intelligent charge controller
Reliable, durable, and versatile
Compatible with on-grid and off-grid inverters
Advanced water and dustproof level
Pre-drilled holes for fast mounting
WEIZE 100 Watt 12 Volt Solar Panel Starter Kit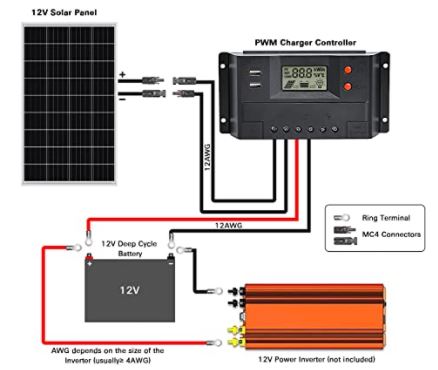 A budget offering from WEIZE, this solar panel kit manages to keep the cost low without compromising on quality and efficiency. A perfect fit in a wide range of off-grid applications, this kit comes with monocrystalline panels for high levels of conversion efficiency.
The low-iron tempered glass covering, anodized aluminum frame, and IP65 sealed junction box make the solar panel weather-proof and ideal for outdoor use. The kit comes with all the necessary components for fast installation.
The charger controller has a digital display for ease of use. The built-in voltage and current regulator prevent the system from overcharging and overheating. 
Package includes:
100-watt monocrystalline solar panel
10A PWM Charge Controller
MC4 20ft Extension Cable – 1 pair
Mounting brackets – 1 set
Highlights: 
21% conversion efficiency
Durable and weather-proofed solar panels
Perfect for use in a variety of situations
Installation ready with all components included
Charge controller with digital display
Bottom line
The solar kits have similar components with a few extra features added here and there to appeal to specific buyers. So, it is up to you to understand your requirement and seek out the right solar panel kit to meet your power needs.
Often when buying solar equipment, you tend to focus on the price and features and neglect the quality aspect. Not all solar kits are made the same. And, this is the primary reason for the wide variation in their prices. The general rule of thumb is that the more you pay, the better product you get. The brand name also carries a weightage and does matter in the final decision-making.
Solar panel kits bring together various components of a solar system into one package to avoid the hassle of shopping for each one of them separately. Among the kits available in the market, Renogy solar kits are way ahead of the rest.
A point worth mentioning here is that most kits do not offer inverters or batteries. You need to buy an inverter to start generating solar energy. Pairing them with deep-cycle batteries can help you get more out of them. You may also want to take a look at our guide on buy solar panels for home.
Recommended Reading: