Being a small homeowner, have you considered going solar, be it to reduce your energy bills or to enjoy freedom from the grid?
You may have moved into a smaller home to save yourself from the high upkeep that a large house demands. Even small homes need electricity for lighting, cooling/heating, and running appliances. You can go a step further to reduce your energy bills by meeting your energy needs with a home solar installation.
However, it is natural that you have doubts about its feasibility as a tiny house comes with a limited rooftop and yard. You would be happy to know that there are readymade solar panel kits specially designed for small home dwellers like yourself.
Read on to learn about the benefits of installing a small house solar system as well as tips and suggestions on how to find the right solar power kit for a tiny house.
Why should you install a tiny house solar kit?
The benefits of installing solar panels for small houses are somewhat the same as that for large ones. You can save money on energy bills, enjoy freedom from the grid, generate your own energy, and reduce your carbon footprint. 
A solar installation adds value to your property, irrespective of whether it is small or large. In the future, if you want to sell your home, having a solar system makes it easier and will fetch you a higher price. 
Most tiny homes are mobile. For small homes on wheels, solar power is the perfect solution, as you move from one place to another. This will eliminate the need to find a power source at each location, guaranteeing you power 24×7.
Before you go solar shopping, here are some questions for you to consider and find answers to.
Tips to buy small solar kits
What is your energy expectation?
If you are planning to go off the grid, you may have to consider your entire energy demand. If not, how much energy do you expect from the solar system?
Just because you live in a tiny home doesn't mean your energy consumption will come down drastically. It depends on the devices and appliances you have and whether you are choosing ones with a high Energy Star rating. 
You can calculate your energy expectation from your past energy bills or by adding up the wattages of all electrical installations.
Do you want to stay connected to the grid?
This is a vital question. If you want to go off the grid, you should have a solar system big enough to meet all your energy demands, together with a solar battery for your nighttime needs. 
On the other hand, if you can continue to stay connected to the grid, you can eliminate the need for an expensive battery. Using a bidirectional meter, you can take advantage of the net-metering arrangement. This allows you to export excess energy generated during the day to the grid and draw energy from the grid whenever your solar system is falling short.
Where are you planning to install the solar panels?
The rooftop is a natural choice as it receives maximum sunlight. However, being a tiny house, the roof space may not be enough to accommodate all the solar panels. Moreover, if there are taller buildings or trees nearby, they may cast shadows on the roof, rendering them unsuitable for solar panels.
The next best option is your yard. If your tiny home is built on a large piece of land, you may consider the ground-mounted systems. 
Before choosing the placement for the solar panels, you need to ensure that the spot receives sunlight at least 5-6 hours a day. If you are choosing rooftop installation, you need to make sure that the roofs are strong enough to hold the weight of the panels. If you are in doubt, you can go in for the light-weight thin-film panels.
5 Best Solar Kits for Tiny Homes
1. WindyNation 100W Solar Kit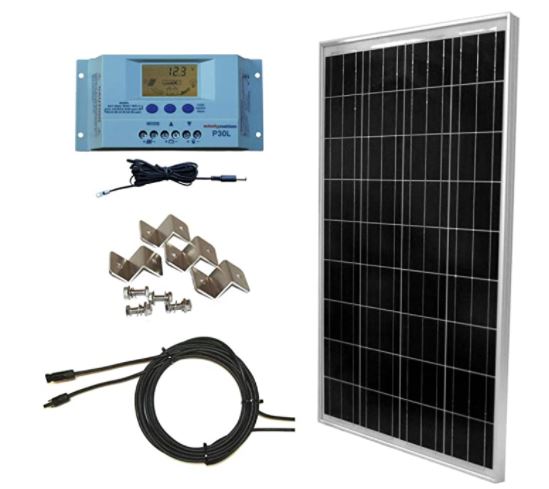 Package includes:
100 Watt WindyNation Solar Panel (40 x 1.4 x 26.4in & 19 pounds)
30 Amp WindyNation P30L LCD Display Solar Charge Controller with Battery Temperature Sensor (user adjustable) 
40 feet of UL Listed 12 AWG Solar Cable
All necessary Connectors
Solar panel mounting hardware 
Installation Manual
This powerhouse in a tiny package is perfect for small homes, RVs, and boats. It can also be used as a backup or for remote power applications. It offers an average output of 350 Wh or 33 Ah.
When teamed up with a DC-AC inverter and a 12V battery, you are all set to harness the free and abundant energy provided by the sun. 
If you feel the need for it, the system is expandable with extra solar panels. The charge controller included in the kit can handle up to four 100W 12V solar panels or eight 100W 24V solar panels.
The PWM Solar Charge Controller allows you to adjust system settings like the voltage of the solar disconnect and the voltage of the load disconnect. Its LCD screen displays amperage, voltage, temperature, amp-hours, and DC load draw.
2. Renogy 200 Watt 12 Volt Solar Kit With Wanderer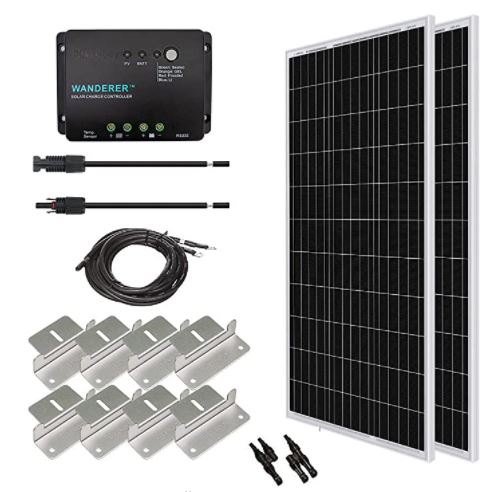 Package includes:
2 Renogy 100W 12V Poly/ Mono Solar Panels
30A PWM Wanderer Charge Controller
20ft 10 AWG Solar Panel Connectors Adaptor Kit
8ft 10 AWG Tray Cable
One set of Solar Panel branch connectors 
Two sets of Z-brackets
Renogy solar panel kits are aimed at first-time users with limited knowledge of solar installation. With pre-drilled holes and plug & play cables, this is ideal for use in tiny homes, RVs, trailers, boats, and campers, in fact, for any kind of off-the-grid use.
A high level of efficiency is assured by the monocrystalline panels. This system can generate up to 1000 WH per day.
Renogy Wanderer-Li, a 30A PWM solar charge controller, brings in the efficiency of PWM charging for better system performance and longer battery life. This also protects the system from overloading, overcharging, excessive discharging, short-circuits, and reversed polarity.
The 30A PWM charge controller also allows you to expand the system up to a maximum of 400W.
3. Grape Solar GS-300 Kit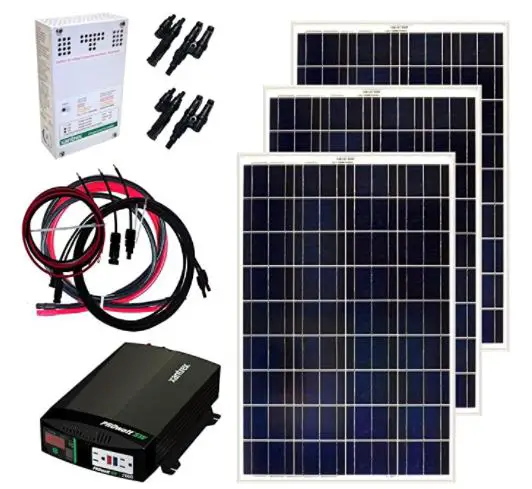 Package includes:
3 Grape Solar GS-STAR-100W polycrystalline solar panels
35 amp Xantrex charge controller
2,000-watt pure-sine Xantrex inverter with two outlets and 1 USB port
Cables 
Manual
If you are looking for easy-to-install small solar systems for homes, the Grape Solar GS-300 Kit is a good choice. Even with basic knowledge of installation, you would be able to manage this installation on your own.
The 3 polycrystalline solar panels are high in efficiency and come packed in a weatherproof, anodized aluminum frame with a sealed junction box. This solar system can offer you 900 Wh or 75 Ah of energy per day. The two diode bypass in the junction box helps minimize power drop due to lack of sunlight.
Grape Solar GS-300 Kit is ideal for various off-grid applications including small pumps, 12V battery charging, charging low-wattage devices, and powering LED lights. One of the best features of this solar system is its negligible need for maintenance. Moreover, Grape Solar customer service is always at your service for assistance and troubleshooting.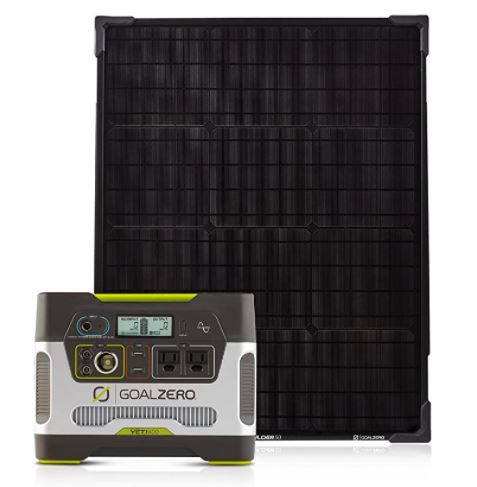 Package includes: 
Yeti 400 Portable Power Station
Boulder 50 Solar Panel with cord and kickstand
Wall Charger
If you are always on the move, but would still like to take advantage of the free energy provided by the sun, you can consider Yeti 400 from Goal Zero. despite its compactness in design, this portable solar system packs a punch. It can charge up to 7 devices like phones, laptops, and similar small electronic devices, at the same time. This can also double up as a backup for small home appliances.
The solar cell is protected by tempered glass and enclosed in an aluminum frame. The kickstand comes in useful to position it in sunlight. The Yeti 400 Portable Power Station comes equipped with an LCD display to help you estimate the runtime. The real-time input and output calculator also come in handy for placing solar panels.
Yeti 400 is a perfect choice for someone looking for an uncomplicated solar system with fewer components. This plug-and-play system does not require additional charge controllers or regulators. Simplicity is the byword of Yei 400.
5. Renogy 800-Watt 24-Volt Monocrystalline Solar Starter Kit for Off-Grid Solar System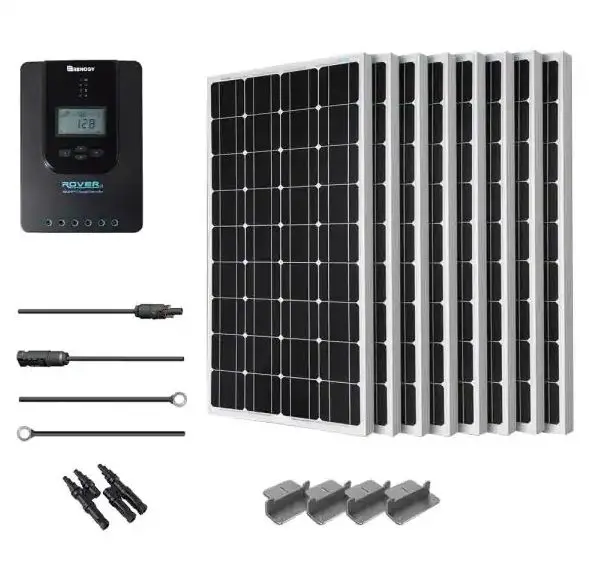 Package includes:
8 100W Mono Solar Panel
Rover Li 40A MPPT Charge Controller
20ft 10 AWG AK
2ft 8AWG Fuse Cable
8ft 8 AWG Tray Cable
8 Mounting Z Brackets (Set)
20A In-line Fuse and 40A ANL Fuse
Renogy Solar Y Branch Connectors MMF+FFM Pair
BT-1 Bluetooth Module
This premium solar panel kit from Renogy can charge your batteries as well as work as a short-term power backup. High on reliability, efficiency, performance, and output, the Renogy 800W 24V Premium Kit is an excellent choice to meet tiny house solar power needs.
The Rover Li 40A MPPT Charge Controller offers a peak conversion efficiency of 98% and a high tracking efficiency of 99%. The Bluetooth module when paired with the DC Home app helps you to monitor and change the system's settings from your phone.
Bottom line
Even small homes have energy needs and solar panels offer the perfect opportunity to cut down your energy expenses, at the same time do your bit for the environment.
The advantage of choosing small house solar panels is obvious. As these are DIY solar systems, you can save on the installation cost. Aimed at homeowners just like you, many major brands have come up with a complete solar panel kit to help you go solar without help.
However, if you need to do rewiring to accommodate the solar installation and you are not competent enough to handle it, you better get help from an experienced electrician.
Grape Solar and Renogy are two names well-known for their tiny house solar power kits.
Recommended Reading: