In 2022, security cameras have become so commonplace that it's taken for granted. What was considered a luxury a decade or two back has become a given – something expected and counted on. 
We expect every public place to be monitored by security cameras. Now the trend is spreading to the home surveillance scene as well. CCTV technology has come a long way since its humble origins during the second world war.
Security camera systems are so advanced nowadays that you can order one online and install them by yourself without the help of a professional. The new generation outdoor solar security cameras are powered by wireless technology making installation easier. And, you have the option to store the recording on an SD card or to the cloud and view them on any device from anywhere.
However, even with all these advances in technology, you would still need a power source to get the camera running. In case the power supply is unreliable or unreachable, your best choice is a solar-powered security camera. You can set up a solar-powered security camera system anywhere as long as it has access to enough sunlight.
Read on to learn more about solar-powered surveillance cameras and what to look for when choosing one for your needs. The buying guide here would help you understand its various aspects and make the right choice. This article also brings you the 5 best wireless solar-powered security camera outdoor systems along with their specifications and brief reviews.
Add a header to begin generating the table of contents
Buying guide for solar-powered surveillance camera
With security camera systems becoming more of a necessity in recent times, technology has kept pace with the demand for innovations. You no longer need DVR/NVR technology for playback; SD cards and IP cameras allow you to access the video footage in a device of your choice.
The evolution of technology in the security surveillance scene is so fast-paced that it is hard to keep up with the latest choices available in the market. Here is a concise list of features that you should focus on when shopping for a solar-powered security camera.
Resolution: One of the most crucial aspects to consider in any camera, be it a mobile phone camera, a DSLR, or a CCTV. The resolution of a camera tells you the power of the digital sensor included in it. This is the factor that decides the sharpness of the image captured by the camera's sensor. A higher resolution translates to a better quality image and more details in the scene.
A point to remember here is that the higher the resolution, the larger the size of the footage and the more storage space required.
Field of View:
This is the area covered by the camera. When using cameras with a larger field of view, you will need fewer cameras to cover the area to be surveilled. As the present-day cameras come with wireless technology that allows wider angles and better movement, it is ideal for real-time monitoring. However, without active monitoring of the system, a larger field of view is more suitable for static surveillance.
Night vision:
A surveillance camera comes in most useful at night as security against intruders. This means night vision is a vital feature for these cameras. While some use LED lights, others have infrared light for capturing better quality images at night.
The range of the camera is also important to monitor activities happening at a distance. Some outdoor security cameras come fitted with motion detectors to turn on night vision and simultaneously notify the owner.
Connectivity:
Now with most homes having wireless internet connections, it would be a smart decision to install a security camera that works on WiFi. This will take away the hassle of wires without compromising on the camera's performance. Wireless connectivity can also come in handy for cloud storage, remote monitoring, and playback from any device.
Choosing a security camera offering both wired and wireless connectivity can be helpful.
In-built battery:
This is more important if you are in a location with intermittent sunny days. A larger battery size means it can store sufficient power to keep it running through rainy and cloudy days.
Compatibility:
WiFi compatibility is definitely an advantage for solar security cameras as it allows you to control them remotely. Compatibility with popular apps, devices, and features is desirable.
Two-way audio:
This is desirable and helps to communicate with the person.
Storage and streaming: Most outdoor security cameras come with a microSD card storage option besides cloud storage through apps. Having both options is desirable.
Warranty:
As outdoor security cameras are exposed to the elements, it would be better to buy one with good warranty coverage.
Related: 10 Things You Should Know Before Buying Wireless Solar Security Cameras
5 Best Wireless Solar-Powered Security Cameras
Solar-powered security cameras offer electricity-free surveillance options for outdoor and remote settings. This is especially useful for outbuildings and large properties.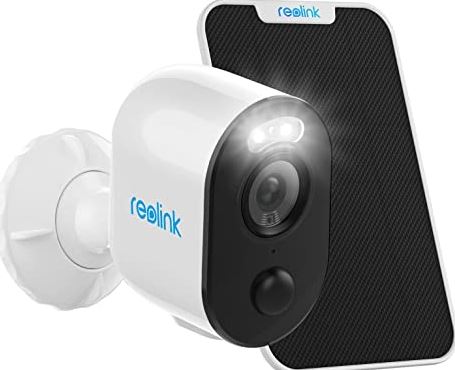 A star product from the stables of Reolink, Argus 3 Pro is a step forward from 2 Pro but lacks some of the advanced features like storage and a wider field of view of its new models. With its wide range of affordable outdoor wireless security camera systems. Reolink is the leader in the field.
Combining a 122° field of view and a 1440p video, the video footage offered by Argus 3 Pro is good enough. It also has on offer a smart motion detection (person and vehicle) feature that is useful. With a microSD card, it offers a time-lapse feature for more artistic videos.
Argus 3 Pro comes equipped with an in-built rechargeable battery and IP65 weatherproofing. Two storage options are available – microSD card (up to 128GB) and Reolink Cloud storage with free 7-day history. Built-in spotlight and siren are the other attractions of this outdoor security camera. 
The solar panel eliminates the need for a power source nearby or removing it for recharging. Argus 3 Pro is a ready-to-use-out-of-the-box wireless outdoor security camera that doesn't need professional installation.
Additional features:
Live view and playback
Starlight 1080P Night Vision
Motion-activated spotlight
Custom voice alerts
Privacy mask
Remote Access Anytime & Anywhere
PIR sensitivity to reduce false alarms
This plug-in-and-play wireless outdoor security camera is one of the most popular products in its class. The Ring Stick Up Cam is highly customizable and offers features to make your life convenient and easy. 
It lets you see, hear, and speak to people from your phone, tablet, or laptop. It is also compatible with Alexa. With 1080p HD video, night vision, and a two-way talk option with noise cancellation, Ring Stick Up Cam can keep you safe and secure 24×7.
Advanced motion detection, custom privacy settings, and real-time notifications are just some of its attractive features. Ring Stick Up Cam comes with a theft protection guarantee. If it gets stolen, Ring will provide a replacement for free.
Live streaming is free but to record/save the footage, a Ring Protect Plan that costs around $3/month is necessary. With the in-built battery and solar panel, you are assured of year-round protection.
Additional features: 
130° field of view
WiFi connectivity
Voice control
Softer siren
Customizable privacy zones
Easy installation
1-year limited warranty
Zumimall Solar Powered Surveillance Camera
Zumimall is a well-known name in the field of surveillance and security equipment. And, this wireless solar security camera lives up to the hype, no doubt.
When compared to other solar cameras with similar features, the Zumimall Surveillance camera is the most affordable of them all at under $100. This doesn't mean Zumimall has compromised on the features included in it.
One of the stand-out attractions of this solar camera is the 55-foot night vision supported by 4 infrared LEDs. Though its motion sensor has a restricted range of 32 feet, the presence of night vision helps in capturing images with clarity. The two-way audio together with the noise cancellation feature is helpful for real-time monitoring.
The solar panel and built-in rechargeable battery ensure round-the-clock surveillance of the premises. The battery is capable of holding enough charge to function for 3-6 months. So a spell of rainy or cloudy days won't hamper its functioning.
Additional features:
Wireless with WiFi connectivity
Full HD 1080p & IR Night Vision
PIR Motion Detection and Real-time Alerts
Multiple Remote Access
IP65 Waterproof
Encrypted MicroSD / Cloud Storage
Reolink Argus PT with Solar Panel
Another popular choice from Reolink, Argus PT is a dome-style camera with an excellent field of view. As with most dome-style cameras, Argus PT also offers a 355° horizontal and 140° vertical adjustable field of view.
Equipped with 1080p camera resolution and 33 feet night vision, Argus PT can provide color-accurate footage even in low light conditions. Besides live streaming, the solar camera also comes with an encrypted microSD card and cloud storage choices.
Its wireless feature and WiFi connectivity make installation easy and simple. Built-in solar panel and weatherproofing can be useful for outdoor surveillance.
Additional features: 
Pan & Tilt camera offering a panoramic view
7-Day Free Secure Cloud Storage
128GB MicroSD card
More Sensitive Digital PIR Sensor
Intruder alert with a custom siren
Compatible with smart home devices
Works with Alexa and Google Assistant
Simultaneous Live View for 8 Users
2-year warranty
SOLIOM Home Security Camera (SD-SOLIOM S600)
A best-seller from a popular brand, the SOLIOM S600 security camera is a winner all the way for its high-end features. It comes with a dome-style CCTV camera for freedom of lens movement and a better field of vision. Its 320° horizontal and 90° vertical movement and 3x digital zoom feature come in handy for real-time monitoring.
The two-way audio system allows for conversation with the person at the other end. The 1080p video quality and 32 feet night vision help in capturing clear video footage. Motion-activated spotlight is useful when the illumination is low. 
The wireless connectivity is helpful for a wider 120° detection angle for the motion sensor. It also allows for panning and tilting of the camera. 
Additional features:
Auto alarm on detecting a motion
Large Solar panel with battery box
Weather-resistant
Wall-mounting base with adjustable angles
Easy installation
 2-year warranty
Bottom line
A solar-powered wireless security camera system is a great option for those looking for an outdoor security camera system that does not require any wiring. These systems are easy to set up and can be placed just about anywhere. They also come with a variety of features, such as motion detection and night vision, which makes them a great option for home security.
Now that you are aware of what to look for in the best solar security camera system, it is time to go shopping.
Recommended Reading: