A portable solar panel is an incredible blessing for avid campers and those on the road in an RV. As long as the sun is shining, you will have free electricity to power your devices as well as charge your RV battery.
When on long camping trips away from the grid, a portable solar panel is the only choice you have for your energy needs. If you are dry camping or boondocking, portable solar systems are unavoidable.
However, some may ask why a portable solar panel in an RV? When you can have solar panels installed on the RV rooftop, why bother with portable ones?
Read on to learn about the advantages of portable solar systems for camping and RV. In this article, you will find tips on what to look for in a portable solar panel. Here, you will also find the 5 best portable solar systems for your camping needs.
Why choose a portable solar panel?
When you are away from grid power for long periods, the only other choice to meet your energy needs is a gasoline-powered generator. If you are a nature lover, you would be concerned about the air and noise pollution of diesel-powered generators and the carbon footprint it generates. Using a solar panel solves all these concerns in one go.
Why portable? 
You can always choose to camp at regular camping sites where you will have access to grid power. If you want to avoid crowded campgrounds or would like to have more freedom, portable solar panels for RV are your best bet.
You can have solar panels installed on RV roofs to provide you with power on the go. However, when you are camping, you will need to park the RV out in the sun for the panels to continue charging. With a portable solar panel, you can park the RV in the shade and keep the panel where the sun is shining the brightest.
Even if you have a rooftop panel on your RV, you can still have a portable panel for use when parked. The portable solar systems offer you greater flexibility when it comes to parking.
How to choose the best portable solar panel for camping?
Your energy need is the main criteria to consider while shopping for portable solar power systems. You should have a good idea about the devices you want to charge and the number of users. 
The style of camping (backpacking, boondocking, or dry camping in designated campgrounds) also plays a major role in the decision. While for backpackers, the size and weight of solar panels are important aspects, if you are traveling in an RV, you can afford to have bigger ones.
Once you are aware of your requirements, these are the features you should pay attention to when shopping for portable solar systems.
Wattage: 
Camping solar panels come in 100W, 200W, or more. While a 100W panel is enough to charge your small devices like phones, laptops, lights, and fans, it also depends on how many devices you want to be charged, the usage of these devices, and charging time.
Weight: 
The more the wattage of solar panels, the heavier and bulkier they are. You need to consider whether you have the space and physical strength to handle them. Naturally, RV solar panels offering more wattage are bigger. This means you need to strike a balance between wattage and panel size.
Length of the cord: 
If you want to be in the shade while drawing power directly from the solar panels, you may need a longer cord. If the cord that comes with the solar panel is insufficient, you can always buy an extension cable to suit your requirement.
Ports: 
If you want to use the power from the solar panel directly, you need to ensure that the panel comes with the ports for your devices. 
Waterproof solar charge controller: 
If you are expecting wet weather conditions, it is important to choose a weatherproof solar panel.
Electrical connectors: 
Most camping solar panels come with alligator clips for hooking up with a battery. The other options are the MC4 connector, SAE connector, and Anderson connector. You can always buy the connector you want to go with your needs.
Foldable or unfoldable: 
Most portable solar power systems are designed as foldable for obvious reasons. They take up less space and are easy to carry when not in use.
Storage: 
Portable solar power systems usually do not come equipped with in-built storage. The power generated is meant for immediate use. But you can always store the electricity produced by hooking it up with the RV battery. Or else, you can add a battery bank to store the energy for later use. 
Efficiency: 
Monocrystalline solar panels are the highest in efficiency. However, they are also highly expensive. Polycrystalline solar panels are more affordable if you are willing to compromise on their conversion efficiency. If compactness is important. Monocrystalline panels are the ideal choice.
Setup: 
Portable solar power systems with lower wattages will come equipped with hooks for hanging, while the bigger ones will have kickstands.
Related: Solar Panel Buying Guide
5 best portable solar panels for camping
Highlights:
Power output: 10W
Panel type: Monocrystalline
Connectivity: USB port 5V, up to 1.5A (7.5W max)
Weight: 1.12 lbs (0.51 kg)
Dimensions (folded): 9.5 x 7.2 x 1.25 in 
Warranty: 12 months
If your power requirements are limited to charging small devices and weight and compactness are a concern, Nomad 10 is the right choice. It comes with a sturdy kickstand and a built-in Flip Power Bank dock. The charging time depends on the capacity of the power bank or the device. 
The integrated USB port provided can be used to supply power to devices directly or to charge a power bank. It is compatible with power banks from Goal Zero such as the Flip series, Venture series, and Sherpa 100PD.
A perfect companion for backpackers, it can be used as a backup power source while camping. Weatherproofing helps this tiny wonder be more durable and excel in adverse weather conditions. The built-in LED display is useful to know the charge remaining in the device.
2. ACOPOWER HY-4x12.5W 12V 50-Watt Portable Solar Panel Kit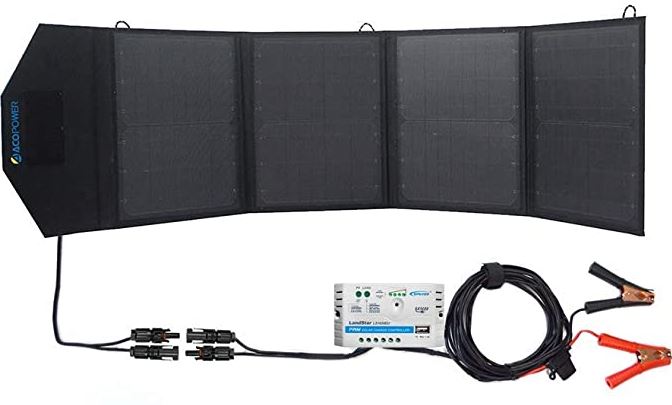 Highlights: 
Power output: 50W
Panel type: Monocrystalline
Connectivity: USB port, MC4 connector, and alligator clips
Weight: 5 pounds
Dimensions (folded): 14×11.4×1 inches inches
Warranty: 18 months workmanship and 20-years output warranty
Weighing just 9 pounds and foldable into a suitcase, this ACOPOWER solar panel is a good choice for all kinds of campers. It can charge 12V lead-acid batteries and lithium as well as provide power to a 5V USB port. The removable MC4 connectors provided come in handy while charging generators. 
This solar kit uses SUNPOWER solar cells made from monocrystalline silicon for the highest level of efficiency. This solar panel can be hung using the hooks provided or set up using the stands that are velcroed to the back of the panel. 
ACOPOWER solar kit is equipped with a 10-amp removable LCD solar charge controller that helps you to track your power usage. This series from ACOPOWER also comes with 70W, 80W, 105W, and 120W options.
3. Renogy 100-Watt Eclipse Monocrystalline Charge 20A Voyager Waterproof Controller Solar Suitcase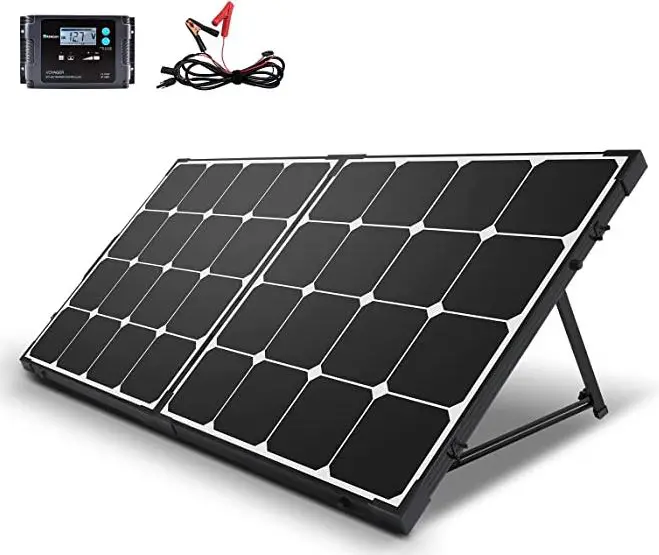 Highlights: 
Power output: 100W
Panel type: Monocrystalline
Connectivity: 9.9ft alligator clips, MC4 connectors
Weight: 19.4 pounds
Dimensions (folded): 21.1 x 21.5 x 3.1 inches
Warranty: 3-year material and workmanship and 25-year output warranty
Renogy is a well-known name in the affordable solar panel market. This 100W portable solar charger is sturdy and durable with a low iron-tempered protective glass panel, a protective casing, and a corrosion-resistant adjustable aluminum kickstand.
The product includes a premium rugged canvas protective case, a 5-stage 20-amp IP65 waterproof solar charge controller with LCD, and adjustable settings. It is compatible with a wide range of 12V batteries. 
This portable Renogy panel is provided with MC4 connectors as well as alligator clips for ease of connectivity to various devices including a battery. The Eclipse Suitcase is fitted with high-efficiency SunPower solar cells for excellent performance even in low-light conditions.
4. ECO-WORTHY 120W Foldable Solar Panel
Highlights: 
Power output: 120W
Panel type: Monocrystalline
Connectivity: Multiple connectors including type-C, alligator clips and USB port with controller 
Weight: 9 pounds (4.2kg)
Dimensions: 21.5 x 14.6 x 2.5 inches
Warranty: 12 months
This is an affordable portable solar charger from Eco-Worthy, a reputed name among solar manufacturers. It is lightweight, compact, and easy to carry.
This portable solar kit includes a 20A LCD controller that can prevent overcharging and short circuits. It offers 2 5V USB ports besides alligator clips.  The built-in 2 tilting kickstands and 3-meter cable are useful to make the best of sunshine while you are resting in the shade. Alternately, it can be hung using the 4 buckles provided. 
The Eco-Worthy solar panel can generate 500 Wh of energy in 4 hours of full sunshine. This solar charger also includes 10 DC adaptors that can be used to hook it up with multiple types of generators as well as laptops using type-C.
5. Zamp solar Legacy Series 230-Watt Portable Solar Panel Kit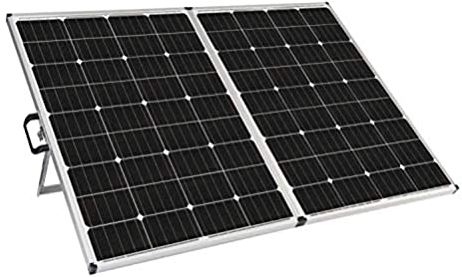 Highlights:
Power output: 230W
Panel type: Monocrystalline
Connectivity: SAE port and alligator clips
Weight: 52.9 pounds
Dimensions: 41.5 x 31 x 4.5 inches
Warranty: 25-year output warranty
Zamp has earned an impeccable reputation as a solar panel manufacturer in recent years. This made-in-USA product comes with a 25-year output warranty.
This portable solar kit includes a 230-watt foldable solar panel, 15-amp solar charge controller, nylon carrying case, and 15-foot cable. In fact, it is well-equipped to charge 12V batteries including lithium-ion batteries. The automotive SAE port and alligator clips from the solar charge controller help with connectivity.
The 5-stage 15A integrated digital solar charge controller is mounted on an EZ-View Bracket for easy monitoring. It is weather-resistant and is designed to offer protection while charging.
The Legacy solar panel comes in a rugged nylon carrying case with thick padding to protect the panel when it's not in use. The foldable stand opens and closes smoothly for easy setup.
Bottom line
You need to choose a portable RV solar panel kit for your camping needs based on how much power you need and what you want to power. When you have limited access to grid power, investing in a portable solar charger is a good idea.
A portable solar panel for RV is an unavoidable accessory for those who want to avoid the crowds at campgrounds. As this also means you have to give up on your access to grid power. Having a reliable and durable portable solar charger can help you manage this situation.
You may not want to have a solar charger installed on the rooftop of your RV or even if you have one, you may not want to park the RV in the full blaze of the sun. Having a portable solar charger can solve most of your camping dilemmas without much investment.
Recommended Reading: